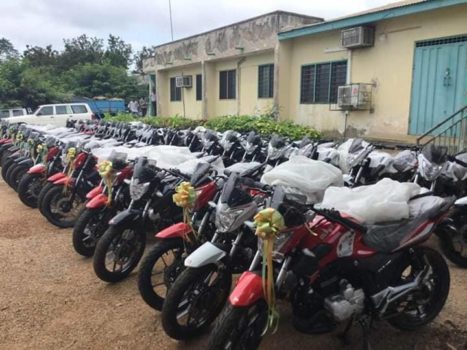 Ghana Agriculture News-The Government of President, His Excellency Nana Addo Dankwah Akufo Addo has once again delivered on it's promise to revamp the agricultural sector as the basis for the tranfromation of the econony of the country.
The Minister for Food and Agriculture, Hon. Dr. Owusu Afriyie Akoto, has commenced the distribution of motorbikes to extension officers across the country as part of moves to improve extension and monitoring services under the flagship Planting for Food and Jobs programme.
The Minister on Monday handed keys to 94 pieces of the bikes to the Brong Ahafo Regional Minister, Hon. Evans Opoku Bobbie, for onward presentation to the Regional Directorate of Agriculture for distribution.
The 94 motorbikes are part of 3,000 pieces to be distributed nationwide under the Modernizing Agriculture Ghana(MAG) programme.
It is aimed at enhancing the efficiency of agricultural extension agents whose role are critical to the successful implementation of the flagship PFJ programme.
Presenting the motorbikes to the regional minister, Hon. Dr. Owusu Afriyie Akoto stressed the importance of quality extension services delivery to the development of agriculture in the country.
He said when the NPP assumed power in 2017, the extension situation in the country  was very appalling, forcing the government to adopt interim measures, including the recruitment of personnel through the Youth Employment Agency (YEA) programme.
Hon. Dr. Owusu Afriyie Akoto observed that due to the freeze on public sector employment as a result of the IMF ban, the previous government failed to employ a single extension agent for over six years and this he said left the Ministry in a very dire situation.
"Ideally, the Ministry requires a minimum of 4,000 extension officers but when we assumed power in 2017, we had less than 1,600 personnel. Even with this figure, about 80% of them were on their way to retirement " the Minister emphasized.
He said after persistent efforts, cabinet approved and granted financial clearance for the recruitment of 2,700 extension officers nationwide to compliment the existing number.
Hon. Dr. Owusu Afriyie Akoto pledged the government's continuous support for farmers and staff of the Ministry in order to achieve the objectives of transforming the economy through agriculture.
Receiving the items, The Brong Ahafo Regional Minister, Hon. Evans Opoku Bobbie, commended the Minister and Government for the introduction of the PFJ programme which he said had greatly benefited in the region.
He said farmers in the region  were able to increase their yeids in 2017 as a result of the supply of improved seeds and fertilizers as well as extension services under the programme.
The Regional Minister said there were indications that this year farmers will record bumper harvest in maize, rice and other crops.
What do you think about this piece? Share your comment in the comment thread and share the story using the social media buttons above. Thank you.