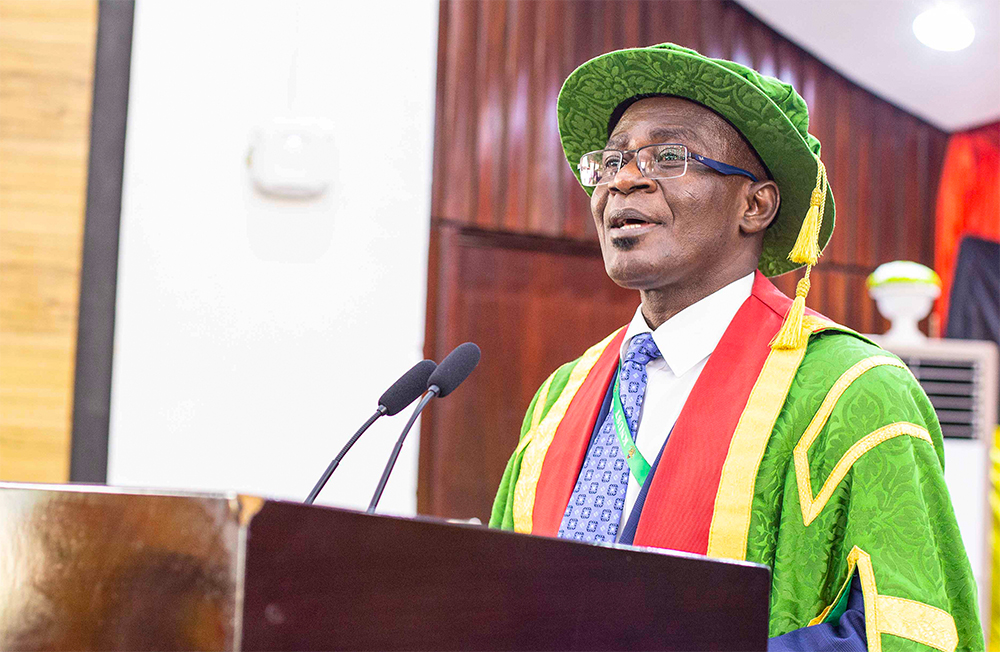 Government has granted approval to the Kwame Nkrumah University of Science and Technology (KNUST) to commence the Centre of Excellence Programme which seeks to afford diploma holders the opportunity to offer degree programmes.
The Vice-Chancellor, Professor Kwasi Obiri-Danso, made this known at the 6th Graduation Ceremonies for the Ministry of Health (MoH) Training Institutions in Ghana, held in KNUST.
With the approval of the Ministry of Health, Holy Family Nursing and Midwifery Training College at Berekum and Kumasi Nursing and Midwifery Training College have been earmarked to run BSc. Nursing programmes from the 2020/2021 Academic Year under the supervision of KNUST. He, therefore, expressed gratitude to Government and the Ministry of Health in particular for believing and entrusting KNUST with the additional responsibility to train nursing professionals in the Health Training Institutions at the degree level.
The Vice-Chancellor in his address also revealed that the University has revised the entry requirements for the BSc. Nursing, BSc. Midwifery and BSc. Community Health Nursing programmes to enable applicants with Diplomas (from KNUST) in and a pass in the KNUST Access Examinations to be enrolled.
According to him, this new development will allow healthcare professionals who are still unable to obtain passes in Integrated Science at the SSSCE/WASSCE level to pursue Bachelor degrees.
Professor Kwasi Obiri-Danso emphasised that the quality of health care professionals and health caregivers to the population of a nation is a good indicator of the health status of the nation. This according to him explains why KNUST considers its partnership with the Ministry of Health as a national duty.
He also said that if the country is able to 'export' nurses to other countries particularly to Barbados, it is largely through the collaborative efforts of KNUST and the Ministry of Health.
The Vice-Chancellor also revealed that KNUST has built the capacities of twenty-six principals of mentee institutions to peer-moderate the health training institutions to complement efforts of the University.
Ms Rebecca Akorli, Head, Health Training Institutions' Secretariat, MoH, congratulated the graduates and charged them to translate their training into serving Ghana, especially in the deprived communities where facilities are limited. She stressed on the need to utilize their innovative and creative approaches, ideas and commitment to affect the world positively. She further charged them to devote their professional energies to unmet health needs of society and utilise limited health resources available.
Ms Akorli reiterated the Ministry's commitment to the affiliation between KNUST and the MoH for proper, accredited, professional training of qualified health professionals over the years.
At this year's graduation ceremonies, 10,546 graduands from 72 affiliate Ministry of Health Training Institutions were conferred with diplomas from the Kwame Nkrumah University of Science and Technology.