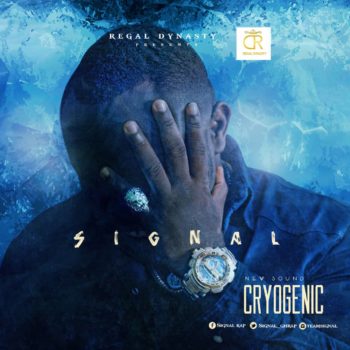 Ghana Music News-With a bus load of passion transferred lyrically, Signal Emcee floors his haters in Cryogenic.
A few dirty words but never mind they help bring out the abrasive tone with which the artist immortalizes himself while at the same time ensuring his enemies remain midgets in view of his accomplishments.
With short lines, heavy diction, nice rhymes, Cryogenic is every hardcore hiphop lover's wet dream.
If you are a hater of Signal; one of Ghana's dopest Mcees, then watch out cos Cryogenic will in one stretch tell you of the rappers accomplishments, his determination and focus towards his passion while at the same time warning you of what can happen when you cross his path; a path that is leading him straight to the top.
The clapping instrumentals, marrying these furious lyrics with the amazing voice of Signal is the sure recipe for a hardcore hip hop threesome.
Oh…the voice of legendary rapper Jay Z crowns it all and makes the experience quite orgasmic.
Listen to new rap banger #Cryogenic #RegalDynasty #Bars #MGM https://soundcloud.com/signal_emcee/cryogenic
Check out the Cryogenic lyrics here
Signal – Cryogenic (Dirty) https://genius.com/Signal-cryogenic-dirty-lyrics